Desktop wallpapers from National Geographic for September 2013
Another collection of amazing photos from National Geographic. This time, they were made by amateur photographers who were at the right time in the right place. A sleeping owl, morning mists, golden valleys, distant corners of our planet - this and much more can be found in the September issue of National Geographic wallpaper. Enjoy!
See also issue -Desktop wallpapers from National Geographic for 2011-2012,Desktop wallpapers from National Geographic for January 2013,Desktop Wallpaper from National Geographic for February 2013,Desktop Wallpaper from National Geographic for March 2013,Desktop wallpapers from National Geographic for April 2013,Desktop Wallpaper by National Geographic for May 2013,Desktop wallpapers from National Geographic for June 2013,Desktop wallpapers from National Geographic for July 2013,Desktop wallpapers from National Geographic for August 2013
(Only 30 photos)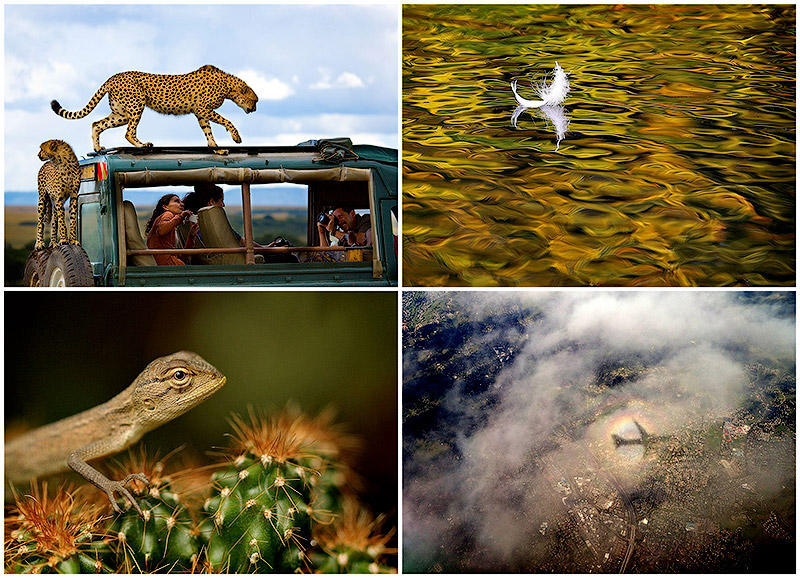 1. To take this photo, Freddie Booth went into the water at dawn knee-deep off the coast in the northeastern part of Oahu. "Seeing how beautiful the dawn was, I tried to take a picture from an unusual angle." (Freddy Booth)
2The image of the chapel serves as an excellent background for these two men sitting in a cafe in the city of Sorrento in southern Italy. "Fortunately, they were glad to be in my picture," said photographer Adeline Iliev. "Architecture has always attracted me, so I took this picture intuitively." (Adelina Iliev)
3. To see the Burmese Pagan from the height of a balloon is an obligatory task for any tourist visiting this ancient city. "This place is ideal for photographs," says Dima Shatrov. "But most importantly, there are thousands of temples, pagodas and stupas." The flight lasts 40-60 minutes. "The first rays of the sun broke through the fog in the east and painted the valley a golden color. In an instant, thousands of solar "spears" pierced through the fog. It is so beautiful and unusual that it seems as if you are back in the 19th century, as if you are the hero of Jules Verne's novel. " (Dima Chatrov)
4. "Usually at sunset dolphins hunt at depth, but they need to rise to the surface to breathe," says photographer Natalia Pryanichnikova, who made this picture of dolphins in the Red Sea. (Natalia Pryanishnikova)
5. "After a week of continuous rainfall, all the small lakes in Kumta became huge," says photographer Dinesh Hedge.- When the sun suddenly came out from behind the clouds, people ran to swim. Delightful clouds have become a great background. " (Dinesh Hegde)
6. Blue Ghost Fireflies in North Carolina Forest. "These fireflies are unique because they shine much longer than usual," says photographer Spencer Black. "Seeing thousands of them flying over the undergrowth in total darkness is incredible." (Spencer Black)
7. George Hodan was in the right place at the right time and was able to photograph this mud covered boat at the bottom of a drained canal in the Czech Republic. "I went on a weekend trip to Brno. The frame was so interesting that I took this picture without hesitation. " (George Hodan)
8. "It was a clear and beautiful day when I flew out of San Francisco," says photographer Avani Agarwal. "At first, I thought it was the shadow of another plane, or maybe just my imagination, but then I realized that it was the shadow of the plane I was flying on, so I quickly grabbed my camera — the usual iPhone — made this shot." (Avani Agarwal)
9. "The snow season in Japan is long ... but there is a little snow in Tokyo," says photographer Danilo Dango. He made this photo in Sibuya, a commercial area where it is always full of people. (Danilo Dungo)
ten.When Yanai Bonnet saw a pair of cheetahs jumping on a touring jeep, he quickly took out a camera and took a couple of shots. "This is an incredible opportunity that falls once in a lifetime. That same evening I saw this picture and could only say "Wow!". " (Yanai Bonneh)
11. A cloud of marigold, rose and jasmine petals enveloped the dancers during the Holi festival in Vrindavan, India. Photographer Priyanka Telang says that dancers and organizers are working hard to preserve the oldest dance of this holiday. This photo shows Krishna celebrating Holi with his friends, mostly women. "All roles are played by men, even women. To be here, to observe this event is something spiritual, something unimaginable. " (Priyanka Telang)
12. A flock of pigeons tossed into the sky in Jal Mahal, Jaipur, India. Makhesh Malasubramanyan at that moment was enjoying the foggy background. "It was early in the morning, I was walking next to Jal Mahal. I was in the right place to photograph reflections of buildings in the water and flocks of pigeons. The water was very calm. " (Mahesh Balasubramanian)
13. "The sun, as if by magic, turned everything into copper," said Loes Shalekamp, ​​a photographer and at the same time a worker at a plant in the Democratic Republic of Congo. - At this plant, copper is coated with a layer of another metal.In daylight, the plant seems dull and gray ... But at sunset the sun shines a few minutes right under the roof, filling everything with copper color. " (Loes Schalekamp)
14. Sebastien Lefebvre was searching for polar owls near Ottawa, Canada, but found only a harsh winter along the road. "The strong wind, snow in the face and subzero temperature did not let me enjoy the photo properly. Constantly had to warm the camera batteries in his bosom. I didn't find any owls that day, but I still returned home with one decent snapshot. " (Sebastien Lefebvre)
15. Kangaroos knocked around a tree to wait out the evening rain in South Australia. Graham Rickettzia made this photo from the veranda of his house with a fantastic view of the Eleanor Valley. "When the sky opened, I marveled at the delightful lighting and contrasts created by the rain. The local wild kangaroo had to hide, I just could not take it off. " (Graeme Ricketts)
16. Stephen Chu was returning to Lhasa from Kashgar in a remote part of western China and was met on the way by a truck that was also going to Lhasa. Tibetan driver agreed to throw Steven. This shot is one day from his seven-day trip with a truck. "I felt the earth tremble.At that moment I was in shock ... They just ran past without fear of getting hit by a car, and at that moment only one word sounded in my head - "Freedom". " (Steven Chou)
17. Early summer morning, Teruo Araya made this photo of a train on Tadami Bridge. The train passed by Fukushima Prefecture. "The mist from the river has created a fantastic world." For Teruo, this picture represents the ability of people to recover from disasters. "But it's like an endless journey," he says. (Teruo Araya)
18. On an autumn day in Moscow, Veronika was waiting by the lake when swans were swimming by, but they did not appear. She was about to leave when she suddenly saw feathers floating on the water. "Apparently, the swans decided to reward me for my patience. For me, this is not just a feather, it is a beautiful part of our life, of what surrounds us, something that makes us smile. " (Veronika K. Ko)
19. When Tomoyasu Sida photographed places near the Koenji temple in Tokyo, he was surprised at the sudden appearance of a female head at the top of the stairs. "At that moment it seemed to me that she was one of these circles." (Tomoyasu Chida)
20. Trees, like guards, stand at Lake Wakatipu on the South Island of New Zealand. "I first found this place back in April 2011, but since then I haven't been able to take it off for a long time," said photographer Brad Grove."That morning it was -4ºС, and the sun was just over the horizon behind my back." The composition fell into place, and I was finally able to get a picture that I had in my head. " (Brad Grove)
21. This cub of a garden lizard no longer than 12 cm long rested on a cactus in the backyard of Arpan Paruy. "I first saw him on a brick in the winter morning. I was attracted by his dreamily closed eyes when he basked in the sun. " (Arpan Parui)
22. Once a year, thousands of people come to the remote town of Birdsville, Australia, for a three-day race. Rowan Bestmann filmed this event from the plane and noticed this frame when he saw parked SUVs. "The owners of these cars came from all over Australia. More than 160,000 liters of petrol are sold during races in the city. " (Rowan Bestmann)
23. Every hour and a half on a certain day of the week, having brought his daughter to a ballet lesson, Brian Yen takes various pictures near her school. "I have seen this scene before, but there were a lot of players on the court. But that time I saw a lonely basketball player. This contrast with Friday's chaos on the roads is so bright that I could not fail to capture it. " (Brian Yen)
24. Barbara Motter had never seen a sleeping owl before, so she was surprised to see these thin feathers covering the eye of this feathered predator in a wildlife reserve in West Florida."This is a beautiful reserve, in which many different types of owls. During the day, they usually sleep, and visitors often pass by the cage without stopping. But it is worth looking at nature, and you will see a lot of new things. " (Barbara Motter)
25. Photographer Junaid Ahmed said that the rapid growth of Dhaka, Bangladesh, lacks a normal layout. "The movement is simply impossible here, so many people take the train to avoid traffic jams, and as a result, the trains overflow." It was this overcrowding and the desire to capture the whole reality of the situation that prompted him to make this frame of passengers at Kamalapur station. (Junaid Ahmed)
26. On Sundays, during the Kite Month, the sky over Cartagena, Colombia, is filled with colorful kites. However, after seeing how the dog pursues soap bubbles, photographer Massimo Rumi wanted to remove only the dog, but then he suddenly expanded the frame. "I wanted to film the whole family, and the bubbles unexpectedly helped make it in such an ideal way." (Massimo Rumi)
27. Private pond in the Chesapeake Bay and the state of Maryland. Thousands of ducks winter here. For this photograph, Paul Bramble used a remote-controlled shutter button to get the ducks as close as possible to the lens.(Paul Bramble)
28. The city of Tsukuba is located about 59 km from Tokyo. It is called the City of Science, because it has a lot of research institutions and architectural interest. "I found this building with a beautiful facade and flat windows at the crossroads under soft sunlight," says photographer Akira Takaue. "I wanted to remove only this wall and the pedestrian sign in order to get a flat frame, without any optical breaks." (Akira Takaue)
29. After the evening thunderstorm in Puducherry, India, the lightning continued to sparkle over the Bay of Bengal, which was colored orange orange in front of street lights. (Sandip Dey)
30. Believers participate in the colorful procession of Rat Yatra in Bangladesh. This holiday is also called the Chariot Festival. He is celebrated in honor of the summer journey of the god Jagannath in a chariot. To take this picture, photographer Rafayat Khan climbed a three-story building before the beginning of the midday prayer. (Md Rafayat Haque Khan)
We remind you that Bigpicture.ru is in, , , ,and Subscribe to RSS can be.
Related news
Desktop wallpapers from National Geographic for September 2013 image, picture